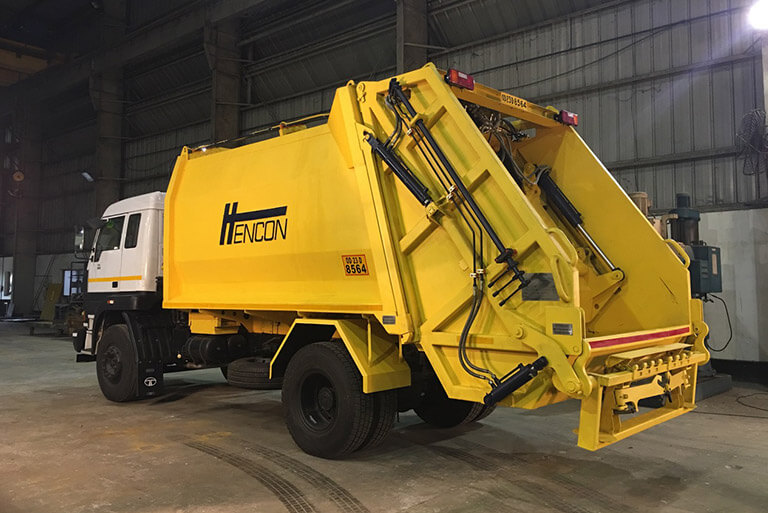 In 2017, Hencon India designed and manufactured a prototype Garbage Compactor for the Indian municipal industries.
Hencon India Garbage Compactors is the best solution to collect, compact and transport municipal solid waste in urban and rural areas.
Hencon Garbage Compactors was designed in The Netherlands specifically for rough operation environments. Hencon compactors are made keeping in mind human operator safety, robust vehicle structures, zero breakdowns and long vehicle service life.
Unique Features of Hencon Garbage Compactors:
Lightest self weight, therefore maximum cargo weight (garbage/refuse)
Designed to work in low maintenance and rough operation environments
Imported hydraulic valves and components for compactor-specific application
St 52 and Imported Japanese Abrex high strength abrasion resistant steel plates used of long service life
Structural sections designed with x3 safety factor
Design that can be modified as per customer/local govt. Requirements
Bin lifter designed as per universal en- din-840 bins (120 litre, 240 litre, 660 litre and 1100 litre)
Can be configured with:

14 cubic metre container for 16 ton GWV truck (approx. 4200mm wheelbase)
18 cubic metre container for 25 ton GWV truck (approx. 4650mm wheelbase)

Leak prevention: double d shape rubber gasket with leak tank and under seal gutter
Maximum Ground to hopper underside floor clearance for easy truck driving
Branded hydraulic rubber hoses, end fittings and metal pipes
High quality anti corrosive paint